A TALK WITH
PIERO SELVAGGIO
( in italiano )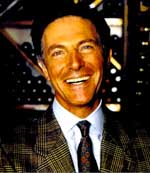 He is the "ambassador" of the Italian Cuisine in the world. In the United States, where numbers are all that matter, he is considered, by his very colleagues and competitors, the best restorateur of all. Not everyone knows, though, that behind that by now famous name, there is one of all those Sicilians, that working hard has made out a fortune of nothing. Piero Selvaggio (www.pieroselvaggio.com) is the owner of the best famous "Valentino", restaurant of vips, in Santa Monica, California, and has, in spite of his notoriety, never given up or neglected his roots. He is born in Modica, where still lives the aged mother and a aunt of his, beside the multitude of friends, who lovely greet and welcome him every time he comes back over there.
Besides the "Valentino", Selvaggio runs two other restaurants: the "Primi" and the "Posto".
"I opened two restaurants in Vegas a year ago, within the Hotel Venetian", "still there, two more are coming and they're about to convince me to open a Wine Bar in Tribeca, exclusive quarter in Manhattan, New York.
We reached Selvaggio in his office, at the 3115 of Pico Boulevard, Santa Monica, California. He tells us he was 18 when he left Modica and moved to New York. The not so usual story of a self-taught and made-man that before creating an empire has worked hard, as a dishwasher, chauffer, at the service of important people and vips, some of whom still received in his best gourmet restaurants.
I presume, Mr. Selvaggio, that the secret of your success much lies in the offer of Italian food. Do you also offer Sicilian specialties?
'We like - he talks in the plural, constantly referring to his chef and team - to call it "Italian contemporary", since we use to serve dishes of our own, dishes evolved and grown up with us, throughout years of adjustments and experience. In 2000 the "Valentino" turned 28 years from his opening. Dishes like the "Timballo alla Norma" or the "Involtini di Pesce Spada" are extremely loved. Yet, they need adjustments. I mean that the "Involtini" are served on a bed of onions, according to the original recipe, but Hawaiian onions. The "Timballo", as well, is adjusted with Japanese aubergines, sweeter and less salted then those we are used there, in Sicily'.
What do you import from Italy, or Sicily?
'Lots of items. From the capers of Salina to the botargo of Muggine, the buffalo's mozzarella of Battipaglia, the "pomodorini" of Pachino, chocolate of Modica, truffles and a wide range of hams and cheeses'.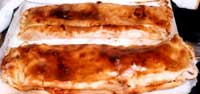 What do you remember of the Modica's specialties of once, as a young?
'Oh, I remember my favorite were the "arancine" and the "scacce", and the "focacce" of Ragusa. And the ice-cream of the "Latteria", a renowned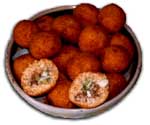 bar of the center of Modica'.
Of recent, Mr. Selvaggio, Sicilian wines are living a moment of prosperity. What do you think about them, even considering that you live in a land, California, which is a best producer of wines?
'The review "Wine Spectator" has awarded us, this year, the best "American Cellar", among the biggest in the world, with some 230.ooo bottles. So let's not forget Sicilian wines like the "Regaleali del Conte Tasca" by Francesca Planeta, the "Cerasuolo di Vittoria" by COS, the "Passito di Pantelleria" by Salvatore Murana, the "Duca Enrico" by Corvo, the "Faro Palari" by Salvatore Geraci, the "Ceuso" by Antonio Melia, and others that are leaders in Sicilian and Italian tradition'.
Mr. Selvaggio, the best quality of your exclusive restaurants is pretty expensive. Is that really basic for who wants to eat well?
'Yes, quality costs. At all levels. It's important to distinguish of course, when you're entering a fast food, a pizza shop, a restaurant, etc. There are many levels, especially of restaurants. Like the "Enoteca Pinchiorri" in Firenze, or "Aimo" and "Nadia" in Milano, we have costs to bear and to necessarily amortize. To get fresh fish from the Mediterranean three times a week, or seasonal truffles or other exclusive products of the Italian tradition is highly expensive and requires a specialized organization. To have the best olive oil or meat … we cannot look upon the price'. 'Here's why people stop here. Our efficient organization, the skilled ability of the chef and the staff. Everything in the right place at the right moment.
It sounds like easy. But this came the basic rule of your business and life. But, then, what's the matter with most of Italian restaurants, there in Italy?
Se c'è un segreto è nell'amare quello che si fa, farlo bene è la nostra missione. Creare delle mode e non seguirle.
Cosa c'è che non va, allora, nella nostra cucina, nei ristoranti italiani?
'I think that even the best restaurants in Italy make mistakes. I think in Italy they excessively mean poetry rather than business, as we do here. Numbers are wrong there. I think is about mentality and practicalness'. 'Here, you make numbers or die. 92% of the new restaurants in L.A shut down in one year. This is the reason we aim at the big numbers: 400 through 600 clients a day, between lunch and dinner. In Italy most restaurants are family businesses. That way quality, of course, will never reach our level. .
Translated by Silvio Sammito
ARTICOLI
COME NASCE IL
CACIOCAVALLO RAGUSANO
LA MASSERIA E' BOTTEGA D'ARTE, IL CASARO L'ARTISTA
A Colazione o per dessert LE GRANITE - passione siciliana
INTERVISTA CON PIERO SELVAGGIO, modicano, ambasciatore della cucina italiana nel mondo.
Antica Bettola dell'800
in una grotta, nei pressi del Castello di Modica, Giuseppe Lucifora ha ricavato un Museo di storia modicana dove si possono gustare i succulenti piatti della vecchia tradizione siciliana.
RICETTE
Salate
Dolci