( in italiano )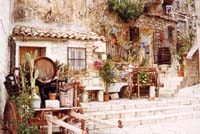 No trace of dust inside and outside the antique glass dresser. Inside, the objects, perfectly preserved, still look like ordinarily used while the close table is served up with the remains of handmade foods of once. Quietness and silence reign all over these houses made out of the rocky caves, and carry us away, back to an antique atmosphere,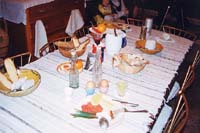 made of voices, rhythms and life of old days, although we are at just few meters from the noises and chaos of the closest town center, right under the well-known watch and tower, symbols of the town. Here within a room of few square meters, used to live poor families: father, mother and five kids at least, as of culture, until 50 years ago (and beyond). No signs now of children playing at chasing each other all around. They are growing up in other quarters of the city, in barrack-like buildings, pretended to be houses.
Situated on Via Posterla, on top of a little stairway, this is a tour must-see for visitors of Modica. On this same road is located the house where Nobel writer Salvatore Quasimodo was born and grown, today run by a tourist association.
This road is easily reachable from the main road, Corso Umberto, walking across the picturesque Via Grimaldi and climbing Via Castello. The other entrance, from behind the church of S. Maria di Betlèm, saves us the biggest surprise, these ambient rebuilt by the passion of people that has never denied their own origin.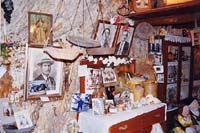 Giuseppe Lucifora is a person we would like to meet in all of our towns in Sicily. He is a professional, qualified chef, who lives in the opposite hill and who happened to fall in love with the historic heart of Modica, still largely neglected, unfortunately. With his savings he has purchased a first, a second, third, up to the fourth cave. He has restored the highly damaged insides, and started to collect objects and tools of our grandparents and artisans: starting from the shoemaker's shoes moulds, only support of the family, who used to gather and get warm around the wood-kitchen, in the middle of the one-roomed house. You even happen to find old-style enemas, syringes and hot-water bottles. A precious, never-ending collection of holy images of Christ, the Virgin Mary, the Saints, entirely cover the walls of the cave where Lucifora receives his friends. All old images to which people used to address their prayers, to receive a support, help in a life made of sacrifices.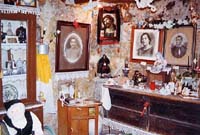 The close alleys still have the old outside sewers, as other sign of how poor was the life of once. But these are the roots and the history of our town and territory. The research Giuseppe Lucifora has undertaken contributes to constantly remind us about them.
---
Peppe Lucifora organizza visite e banchetti all'interno delle grotte.
Per prenotazioni o informazioni telefonare allo +39 0347 3801393
---
ARTICOLI
COME NASCE IL
CACIOCAVALLO RAGUSANO
LA MASSERIA E' BOTTEGA D'ARTE, IL CASARO L'ARTISTA
A Colazione o per dessert LE GRANITE - passione siciliana
INTERVISTA CON PIERO SELVAGGIO, modicano, ambasciatore della cucina italiana nel mondo.
Antica Bettola dell'800
in una grotta, nei pressi del Castello di Modica, Giuseppe Lucifora ha ricavato un Museo di storia modicana dove si possono gustare i succulenti piatti della vecchia tradizione siciliana.
RICETTE
Salate
Dolci